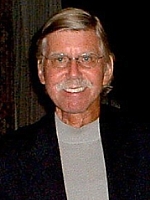 Jack @ 20th Award Dinner 2010
John D. O'Gara
Known As"Jack" To All
October 1941 - January 2011
PITTSFIELD, MA John "Jack" D. O'Gara, retired executive, author, founder and chairman of The Tom Giddings Memorial Scholarship, died from complications related to pneumonia on Saturday, January 22, 2011, in Naples, Florida, with his loving wife, Marcia, by his side. Jack was born in Pittsfield on October 4, 1941, son of Roger and Lucille O'Gara.
Under Jack's guidance, The Tom Gidding Scholarship, which recently celebrated its 20th anniversary, has become the single largest award in Berkshire County for a graduating seniors from Pittsfield, Taconic, and Saint Joseph's High School. He took a special interest and pleasure in remaining in contact with the recipients and the contributors.
MEMORIAL NOTICE
In lieu of other tributes, contributions may be made to
Jack graduated in 1959 from Pittsfield High School, where he was a National Merit Scholar. He had a passion for sports and played youth baseball, high school basketball, and football. He was selected to the 1958 All Berkshire Football Team and was inducted into the Pittsfield City Football Hall of Fame.
Jack received his Bachelor's Degree from Yale University, where he played football, and his Master's Degree from Rutgers University.
After graduation, Jack was a CPA with Peat Marwick Mitchell & Co. in New York City. While with them, he lived in Brussels, Belgium, and Kuwait, on assignment with client companies. After returning to the United States, Jack worked for Atlantic Richfield in Los Angeles, CA. He went on to work for Ashland Oil Co. in Ashland, KY and Dublin, OH for 27 years, retiring in 2004 as Assistant Director of Internal Audit. He was a Certified Fraud Examiner, past president of the Ohio Chapter of Institute of Internal Auditors, and was a speaker/lecturer on corporate fraud.
After his retirement, Jack and Marcia returned to live in Pittsfield.
In 2007, with his brother Paul, in honor of their father, Jack co-authored
Fair or Foul -- Collected Columns of Roger O'Gara 1954-1966; (
Roger, in addition to daily columns under his "Fair or Foul" byline, was Sports Editor for The Berkshire Eagle during the same period.) All profits from the book were/are used to fund the Giddings Scholarship.
In recent years, Jack was considered an expert on the impact of steroid use on major league baseball performances. His work in this area was cited in the Wall Street Journal, Newsweek and The Boston Globe.
He is survived by his loving wife of 27 years, Marcia, of Pittsfield; stepdaughters, Allison Pfeffer (Raymond) and Cheryl Gorley (John) and families in Cincinnati, OH; brother, Paul O'Gara (Brenda), of Montague MA, and nieces and nephews, Jonathan and Abigail O'Gara, Daniel and Amanda Galvagni, and Elise Beth (Galvagni) Sullivan and many wonderful friends.
In addition to his parents, Jack was predeceased by his sister, Colleen O'Gara Galvagni.
We all will miss Jack.